Levo
Dynamic gas lift monitor arm
Levo offers the very latest in monitor arm design with a unique patented ratchet and clutch mechanism engineered to hold large screens securely, whilst being easy and smooth to adjust.
Simple to install, Levo is perfect for single or dual screens in agile working environments or with large touch screens at exhibition/reception areas.
Available in black, grey and white.
TSR822-GMA821-WH-Reverse-Twin-Rail-Monitors-1400×788
Gas lift monitor arm for single screens
The Levo monitor arm offers capacity for screens between 2kg and 10kg. The arm design includes an optional 180° rotation stop to prevent the lower arm moving beyond the edge of the desk. The VESA mount allows screens can be easily rotated through 360° by releasing an easy-to-access lever.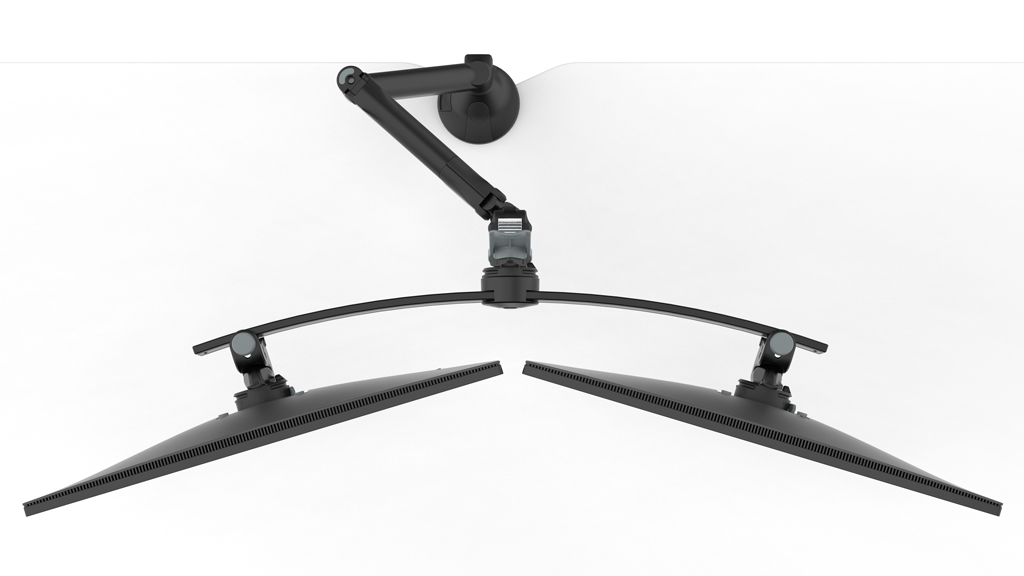 Twin rail for dual/twin screens
Simple and quick to install, the quick release twin rail attachment converts the Levo arm from single to supporting dual screens, whilst still allowing a full range of adjustment throughout. The quick-release mount simplifies the installation process.
Ratchet tilt mechanism with safety clutch
Levo's ratchet tilt mechanism with built-in safety clutch has been designed to prevent the arm from dropping when large or heavy screens are attached. The screen tilt can be quickly adjusted using the easy-to-access lever. This innovative design feature separates Levo from other gas lift arms on the market.
Convert to a raised laptop holder
Convert to Levo to a versatile laptop holder with our universal VESA attachment. Our laptop holder supports devices up to 10kg in weight.
Simple and easy to adjust
The one-touch easy position adjustment is ideal for shared or hotdesk workspaces and is enabled by Levo's smooth gas lift. On the twin rail VESA mounts the 'lift and slide' adjustment makes it incredibly easy to position screens whilst the optional handle aids rail tilt adjustment.
All adjustment areas on Levo are colour coded grey for easy identification.
Complete cable management
Levo is designed with tidy desks in mind. The integral high capacity cable management easily holds 4 cables, ideal to keep power and data cables secured out of the way.
METALICON 5 YEAR WARRANTY
Our Levo monitor arm and twin rail comes with our 5 year warranty.